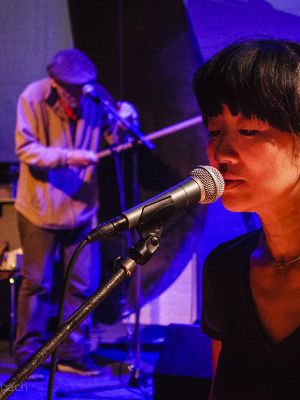 Robert "Bob" Rutman (* 1931 in Berlin) is an internationally renowned German-American visual artist, musician and composer who began his career in the United States. He is considered a pioneer of multimedia performance because he plays or has played on musical instruments developed by himself. Rutman also makes drawings, oil paintings, engravings and wire sculptures. He has lived and worked in Berlin since 1990. Rutman is the child of a Jewish mother who emigrated from Nazi Germany in 1938. First the family came to Poland, followed by a stay in England in 1939. After attending school there, Rutman went to the United States in 1950, had to do his military service in 1951 and was stationed in Heilbronn in the Federal Republic of Germany. From 1955 to 1962 Rutman studied art in New York City and Mexico City. Soon after graduating, he founded an art gallery in New York. After he had left New York, he founded a multimedia gallery in Maine, which had to file for bankruptcy after four years. In Maine, Rutman produced his first steel sculpture in 1968, which can be played on using a bow. He called it Steel Cello and gave small concerts with it. Because of the great interest, he developed a broad variation of such new musical instruments in a short time. In 1975 Rutman finally founded the U.S. Steel Cello Ensemble and has been touring America and Europe ever since. He continued his artistic work in Boston, where he created most of his artistic work within a few years. Rutman lived for four years in Mexico where he married and became the father of his son. In 1990 Rutman moved to Berlin permanently. He now lives in the district of Berlin-Mitte.
Yuko Matsuyama is a performing-arts artist (vocal, dance and choreography). She began a traditional Japanese dance education with her mother at the age of two and completed her musical theatre education at the Tanakrazuka Music School in Japan. Yuko was engaged for the following thirteen years as a musical performer and dancer at the Takarazuka Revue Musical/Revue Theatre.  Since her first encounter with the contemporary dance scene through her collaboration with Finnish choreographer Tomi Paasonen, she has worked as a freelance performer and trainer. Since 2010 she has been based as an artist at Haus Schwarzenberg in Berlin, where she organizes live performances as an experimental platform at the interface between dance and music. In 2017 she graduated with a Master in Choreography from the HZT: Inter-University Centre for Dance Berlin/ HfS "Ernst Busch".
As a singer she works with Jochen Arbeit (Einstürzende Neubauten, Automat), Murat Ertel (BabaZula, Istanbul), Bob Rutman, Schneider TM aka. Dirk Dresselhaus, and Berlin Hawaiian Band Hula Hut & the Seven Seas.
Munsha is the alias of Daniela Lunelli, an Italian singer, cellist, sound designer, performer and music educator based in Berlin since 2014. She began studying piano at the age of eight. Soon after, singing and cello became increasingly her areas of interest, which culminated in 1997 by studying at the Conservatory of Music G. Martucci of Salerno. While still doing academic courses, she became involved in several rock, dark-wave and punk bands. During the years, contemporary music, avant-garde of the 1900s and voice research were her main focus. After graduating in Opera singing under the guidance of maestro Daniela Del Monaco and Multimedia Composition [M.A.C.M.], she attended workshops and continued education courses at the International Academy of Music in Milan, the Conservatory C. Pollini of Padua, with the vocal coach, Mario Castiglia and the cellist Riccardo Agosti, improving herself on classical music as well as on modern singing techniques.
Simultaneously, she started her training as an editor, sound designer, producer and post producer for movie and television, making contact with the most important Italian film production institutions such as Cinecittà, Fonoroma and International Recording. At the end of her training as a multimedia sound designer, she has devoted herself entirely to the composition and performance of her own musical productions, being inspired by musicians like Dead Can Dance, Philip Glass, Steve Reich, Nine Inch Nails and Bauhaus. She shifted to contemporary and electronic music and the research of new languages, testing new forms of sound dialogues, alternating on stage cello-voice performances with electronic live-sets.