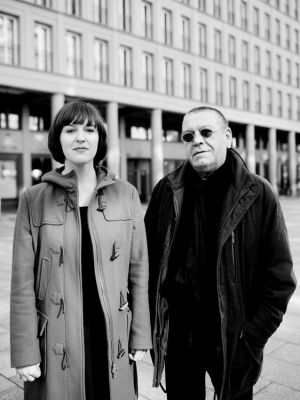 "For some time now Ulrich Gumpert has been jazzing with the saxophonist Silke Eberhard and they form a very exciting duo in the tradition of free jazz. Silke Eberhhard is not a newcomer to the German jazz scene. She played trio and quartet under her own name and for a longer time in duo with the pianist Aki Takase. She is deeply rooted in the musical spirit of Ornette Coleman or Eric Dolphy. The duo album Peanuts & Vanities emerged from the joint work of Gumpert and Eberhard - and captures a wonderful piece of instant composing." Source: Jazzclub Tonne, Jan 2015
 
Ulrich Gumpert was born in Jena in 1945. From 1961 he studied French horn in Weimar. In 1967 he began a new study in Berlin, principally piano, and began to play in various bands of Klaus Lenz. In 1971 he co-founded the jazz rock formations SOK and Synopsis, from which the Central Quartet emerged in 1984. After that Gumpert worked a lot with Günter Baby Sommer, Thomas Brasch, Peter Brasch and Jochen Berg and toured with Peter Brötzmann, Peter Kowald, Harry Miller, Louis Moholo and others. During this time he also formed a trio with Radu Malfatti and Tony Oxley and duos with John Tchichai and Steve Lacy. Solo, duo, trio and quartet concerts followed in the 1990s. From 1991, film music was composed in collaboration with Matti Geschonneck, including a part for the german Tatort around Commissioner Markowitz. In 2005 the Ulrich Gumpert Quartet was formed, which exists today as Jürg Wickihalder, Jan Roder and Michael Griener. Also in 2005 he received the Albert-Mangelsdorff-Prize (German Jazz Prize). 2010 Performances at the Berlin New York Festival at the Iron Dale Culture Center in New York. Ulrich Gumpert developed a unique personal style by using the experiences of jazz and European music history in an original way and as an improviser and composer he lent and still gives one or the other musical impulse to one or the other musical development.

Silke Eberhard is a Berlin saxophonist, clarinettist and composer. Since the mid-90s she has dedicated herself to the freer variations of jazz and improvised music. Her collaboration with Jan Roder and Kay Lübke, which began then and eventually led to the Silke Eberhard Trio, moves in this tradition in search of new challenges, which recently led to The Being Inn (the third trio album to be awarded the German Record Critics' Prize, a concept album). Their intensive involvement with the music of Eric Dolphy led to the project Potsa Lotsa, initially a wind quartet interpreting Dolphy's complete works. The project extended to the Septet Potsa Lotsa Plus (plays Love Suite by Eric Dolphy) and finally to the Tentift Potsa Lotsa XL, which so far exclusively performs Eberhard's compositions. She composes for small and large ensembles, contemporary music and jazz. In her varied work as a performer she also concentrates on improvised encounters in dance, theatre and visual arts. She collaborates with many collective ensembles, including the duo with Ulrich Gumpert, the duo with Uwe Oberg (+ Trio with Gerry Hemingway), Matsch & Schnee, I am Three...... She performs with numerous musicians of the international jazz scene such as Aki Takase, Nikolaus Neuser, David Liebman, Sandy Evans, Hannes Zerbe, Wayne Horvitz, Dave Burrell, Michael Zerang, Maggie Nicols, Joe Morris, Michael Formanek, Talibam! amo.... and travelled with their music all continents except Antarctica.